Digital Dot Appointed as Massivit 3D's Sales Partner in Benelux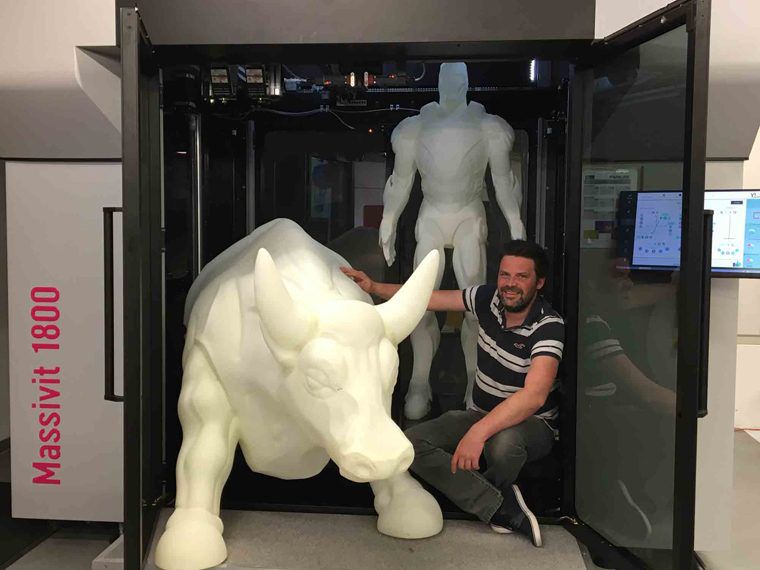 Digital Dot, an established supplier of technical support, consumables, software and super-wide format printers within Benelux, has announced that is has signed an agreement with Massivit 3D, the leading provider of large format 3D printing solutions for visual communication applications, to become the company's distributor within the region.
The agreement sees Digital Dot assume responsibility for sales, installation, technical support and maintenance of Massivit 3D's portfolio, which comprises the new Massivit 1500 Exploration 3D Printer and the super-sized flagship Massivit 1800 3D Printer. Digital Dot will also supply Massivit 3D's patented Dimengel material.
According to Nico Desmedt, Founder and Owner of Digital Dot, as an established supplier to print service providers, the company's expertise and knowledge of the graphic arts market in Benelux, makes it perfectly suited as Massivit 3D's sales arm in the region.
"We endeavour to integrate into our offering the technologies that we feel add significant capacity for print service providers to enhance their operations and Massivit 3D ticks that box," explains Nico. "With its ability to quickly produce eye-catching 3D printed sign and display projects beyond those that can be achieved with 2D large format printing solutions, the company's technology is transforming the traditional print market. We are unbelievably proud to play such an integral role in this pioneering movement and we're only just getting started!" he adds.
Guaranteed business for early adopters of Massivit 3D's solutions With the first Massivit 1800 in the region, the company can not only provide customers with a full on-site workflow demonstration but can also help them access the technology and discover the multitude of larger-than-life visual communication applications achievable.
Digital Dot is in this way, collating a customer database which it intends to provide to the first customers in Belgium, Luxembourg and The Netherlands that purchase a Massivit 3D solution. This catalogue of end customers will, it is hoped, allow the company to redirect jobs currently undertaken through its service bureau to its clients, offering them guaranteed and potentially repeat business from the get-go.
VIP Forum: Showcasing 3D printing's power to propel traditional visual communications to a new dimension In order to demonstrate to print service providers the revenue-enhancing potential achievable by seamlessly integrating large format 3D printing into their existing workflow, Digital Dot is collaborating with Massivit 3D to host an exclusive VIP forum on Thursday 26th April at its facility in Vilvoorde. Those interested in attending can obtain more information by visiting this link, or calling Digital Dot directly on +32 2 793 04 35.
Commenting on the agreement, Gaspare Bugli, European Sales Director at Massivit 3D, says: "We are delighted to have Digital Dot driving sales in Benelux. With its established knowledge of the marketplace and thorough understanding of the diverse application needs of print service providers, Digital Dot is the ideal partner. Its dedicated technician and support division complements our own customer service orientation."