Massivit 3D opens European Demo Center
Digital Dot hosts the European Demo Center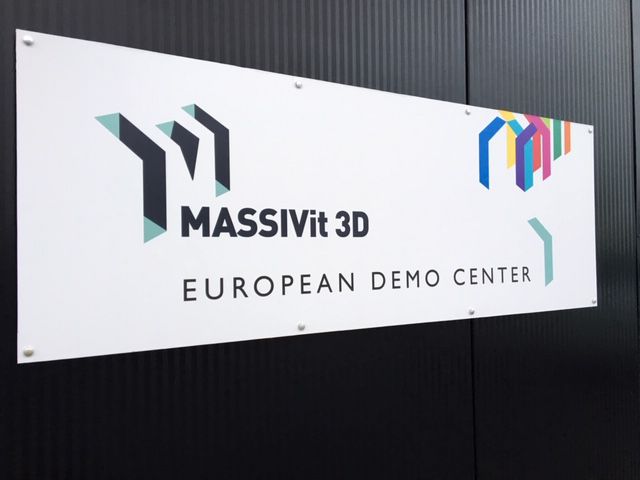 Massivit 3D Printing Technologies, the leading provider of large format 3D printing solutions for visual communication, is addressing a rise in sales driven by an EMEA-wide surge in interest in 3D printing, with the opening of a new demo center in Belgium.
In partnership with the company's successful local dealer, Digital Dot, Massivit 3D is opening the new 160 sqm centre, next to Brussels' main airport, to showcase its innovative, large format 3D printing solutions. Located in the cradle of Belgium's large format 2D printing sector, it is easily accessible with close transport links.
The new demo center will provide a central location for Massivit 3D's extensive European dealer network to host potential customers who are keen to test out the creative possibilities that large format 3D printing technology delivers. They will be able to investigate the synergistic services that can be developed and added to their existing offering.
The inspirational layout of the demo center, featuring a reception area, showroom, demo space for exploring applications, and a machine demo area, have all been designed to stimulate visitors' imagination. Onsite, visitors can experience live 3D printing sessions on both a Massivit 1800 Flagship 3D Printer and a Massivit 1500 Exploration 3D Printer and witness the unrivalled print speed of up to 35cm/ 13.7'' on the Z axis per hour.
Massivit 3D CEO, Avner Israeli, commented: "Being closer to our customers and prospects is a priority for us. With this EMEA demo center, PSPs will now be able to gain more immediate access to the technology making it easier for them to grasp the prospective growth opportunities available with Massivit 3D large format 3D printing."
Digital Dot's COO, Sofie Demeyer added: "We have a longstanding relationship with Massivit 3D and it is an honor for us to have the opportunity to host their EMEA demo center at our premises. It will help to inspire distributors and customers who are keen to further explore the potential of 3D printing in expanding their existing services or diving into exciting, new markets."
The new demo center will be officially opened on 16thJanuary 2019 at 14:00.